Here's a round-up of top news stories for 19 – 23 October, 2020. 
Police Commence Training for SWAT Personnel.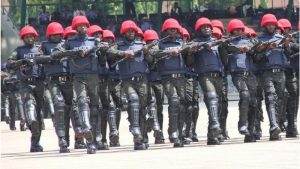 Despite the peaceful nationwide protests which led to the dissolution of the Special Anti-Robbery Squad (SARS), followed by a rejection of the newly formed replacement, SWAT, the Inspector General of Police, Mohammed Adamu, announced that training for the new police tactical team, will commence on Monday.
This was disclosed in a statement on Sunday in Abuja by the Force Public Relations Officer (FPRO), Frank Mba.
According to him, Mr Adamu added that the new team would operate within very high ethical and professional standards, rule of law, as well as dictates of best international policing practices.
2. Bloody Tuesday at Lekki Tollgate as many peaceful #EndSars Protesters Massacred.
It was a bloody Tuesday at Lekki Tollgate, Lagos State after a number of peaceful #EndSars Protesters seeking an end to police brutality were shot dead by some security operatives. The incident was streamed live on Instagram by Dj Switch, a Celebrity Disk Jockey after lights were turned off at the toll gate and security cameras uninstalled few hours after the announcement of curfew in Lagos state. 
According to Amnesty International, at least 56 people have been killed in two weeks since the peaceful protests started. It was stated that several people were killed and wounded when soldiers opened fire on the unarmed citizens.
3. 1,993 Inmates Allegedly Escape from Benin Correctional Centres.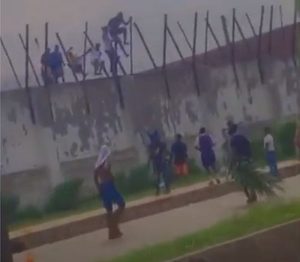 The Federal Government has said that on Monday during the protest, at least, 1,993 inmates escaped from the Nigerian Correctional Service (NCoS) Custodial Centres in Benin City and Oko in Edo State.
Assorted weapons were also said to have been carted away from the central armoury during the violent attacks. This disclosure was made in a statement by the spokesperson for the Ministry of Interior, Mr. Mohammed Manga.
According to the statement: "They (hoodlums) came in large numbers, bearing dangerous weapons and attacked the officers on guard duty. They were unmistakable on their mission, which was to force the cells open, free the inmates and carry out other nefarious activities. The situation has been brought under control while security in and around the custodial centres nationwide has been beefed up. Investigation has commenced to determine the full impact of the attack".
4. Burning and Looting of Public and Private Owned Businesses, Police Stations across Nigeria.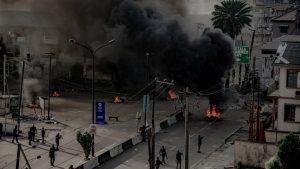 There has been series of reports of burning and looting government owned and private businesses like malls, banks, police stations, Television stations etc. in different parts of the country despite ongoing curfew in some parts. 
Since the shooting of unarmed civilians by security operatives at an anti-police brutality protest at Lekki toll gate in Lagos, Nigeria's commercial capital on Tuesday, violence has intensified. 
At the malls, eyewitnesses say the looters come in groups, taking food and electronics,  and afterwards set a part of the mall ablaze.
5. Attack on AKBC, Other facilities in Uyo.
Akwa Ibom state has had it own share of the unrest currently experienced nationwide. The Akwa Ibom Broadcasting Corporation (AKBC) in Uyo, the state capital, was reportedly burnt down on Thursday, October 23.
Eyewitnesses shared videos of the burning online. It is however unclear what led to the fire outbreak in the administrative office of the station.
6. COVID-19: Palliatives Discovered in Lagos' WareHouse.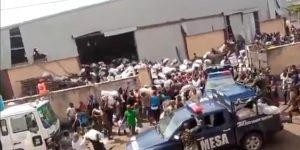 A warehouse in Mazamaza community of Lagos stacked with Covid-19 palliatives meant to be distributed to Nigerian citizens during the initial outbreak of the pandemic was found in Lagos on Thursday.
Video clips circulating across social media showed that the residents looted the branded COVID-19 palliatives after some hoodlums broke into the warehouse.  
According to reports,  a bonfire was set at a junction close to the warehouse, after which palliatives were carted away by thousands of people.
HEADLINES NEWSLETTER
Subscribe now for weekly news headlines roundup delivered directly to your inbox.